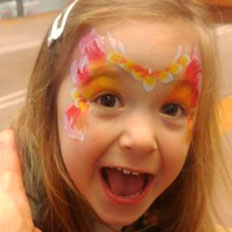 Giovanni and Laura
Dear Angela and wonderful team at Vistahermosa, we are most grateful to your Team for our great 'GIFT'. Since we first met in London, to the subsequent visits to your Hospital in Alicante, we felt the professionalism that you could provide, both in the clarity of information and the direct approach that helped us decide on the most suited course of action. Our experience with your doctor (Dr. Lloret) that took charge of our case was most delightful, his advice most precious when trying to decide on using our own egg or a donated egg and his professional skill when coming to depositing the embryo, was just incredible. We are so very grateful to you all for having given us the gift of a wonderful daughter that we may have never had otherwise. Sincerely.
Sophia Smith
Thank you all the staff who have been very supportive and given me the support I needed. This journey has been a roller coaster an I appreciate the Skype calls an emails to answer any questions an help me feel not alone on my IVF journeys. I would hightly recommended this clinic
Nathalie Miller
Thanks to the exhaustive program and state of the art of the Genetics Unit in this clinic we achieved our dream of becoming parents of a beautiful baby girl named Nathalie, after several attempts of failed cycles including miscarriages in other clinics in Alicante. We will definitely recommend this clinic to everyone who needs help with this
Celia Rogers
A bid thank you. This was only clinic where guaranteed euploid fresh embryos in the same cycle, without the necessity to freeze them
Diane Williams
I will be forever grateful to all the staff at the clinic. Lots os kisses
Ida Chester
Everyone was friendly, translator always available and contactable to help translate information. Very caring and sympathetic staff who spoke softly, with understanding and patience
Harriet Stone
After reviewing over 30 clinics around the world, I found my best experience at Vistahermosa. I had failed IVF that were costing a small fortune and time. They had the best response time gave me the best confidence through their staff the would help me through becoming a mother with ovodon. I am 19 weeks today and having a baby girl. I'd recommended this clinic for service, time and cost
Rachel White
A few months back my husband and I experienced a miracle we through many years of hoping, never thought we would experience. We had a  wonderful daughter. She is absolutely amazing. We are so thankful for the professional way we were met at Clinica Vistahermosa in Alicante. After many IVFs in Norway, we were advised to try egg donation at this clinic, and we are so happy that we did. We were about to give up, but now we can call ourselves mom and dad. Thank you so much Clinica Vistahermosa!!!